Holiday destinations in India seem to be infinite. From scenic destinations to historically and culturally soaked sites. Cities are bustling with chaos and confusion to destinations offering laid-back and relaxed stays.
From Historical monuments to modern bustling cities, from beautiful islands to wildlife sanctuary, from dazzling shopping malls to awesome street shops, India is an incredible place.
Amidst this vast list of destinations, there is always a dilemma of choosing a destination that is worth a visit. Well! Relieving you of this hectic, here is an overview of 'Tourist places in India'.
Kashmir
One of the most incredible places in India, Kashmir is famous for its enthralling beauty and aptly nicknames the 'Heaven on Earth'. In addition to that, it comprises of Picturesque lakes, beautiful fruit orchards, verdant meadows surrounding with thick woods of pines and deodars. Its lush green gardens are teeming with vibrant flowers and captivating valleys enclosed with snow-covered peaks of Himalayan and Pir-Panjal ranges. Further, you can enjoy a heavenly 'Shikara boat ride' on the pristine 'Dal Lake', and also stroll through the beautifully manicured 'Mughal Gardens'. Pay your homage to 'Amarnath Ji' standing amidst the ethereal natural beauty of the tiny hamlet of 'Chandanwari'.
Goa
Goa stands out unique in India for its Portuguese colonial architecture and heritage. The Portuguese arrival in Goa in 1510 was because of the exotic East and the promising lucrative spice routes. Pint-sized Goa is beyond the beaches and trance parties. A kaleidoscopic blend of Indian and Portuguese cultures sweetens with sun, sea, sand, seafood, and spirituality. Goa's biggest magnet is undoubtedly its virtually uninterrupted string of golden-sand beaches. The shimmering strand stretches along the Arabian Sea from the tip to the toe of the state. Moreover, each of the various beaches has developed their personalities and reputations. Undoubtedly, Goa is the most popular tourist places in India.
Delhi
Delhi, the bustling capital of India makes for one of the perfect Tourist places in India. A city with heritage monuments, teeming bazaars, and mouth-watering street food reminds you of its rich past from the Mughal era. More cosmopolitan and contemporary by its sprawling boulevards, high-end malls, shopping complexes, luxury hotels & restaurants. Delhi is definitely, a true amalgamation of age-old cultures and present day's modernisation. Also, some of the most famous attractions of Delhi are:
Chandni Chowk -relishing on its lip-smacking chaats,
Sarojini Nagar – A Splendid experience of shopping on streets
Humayun's Tomb and Qutab Minar– a heritage walk through the inspiring Mughal architectural masterpieces dating 700 years old.
Hauz Khas Village– a lovely experience of relishing on some tasty cuisine sitting at a lakeside café.
Kingdom of Dreams- for enjoying a musical Bollywood night.
India Gate– For a beautiful picnic spot
The attractions in Delhi keeps on going Endlessly.
Suggested reads: Delhi Airport provides facilitation booth to tourist
Agra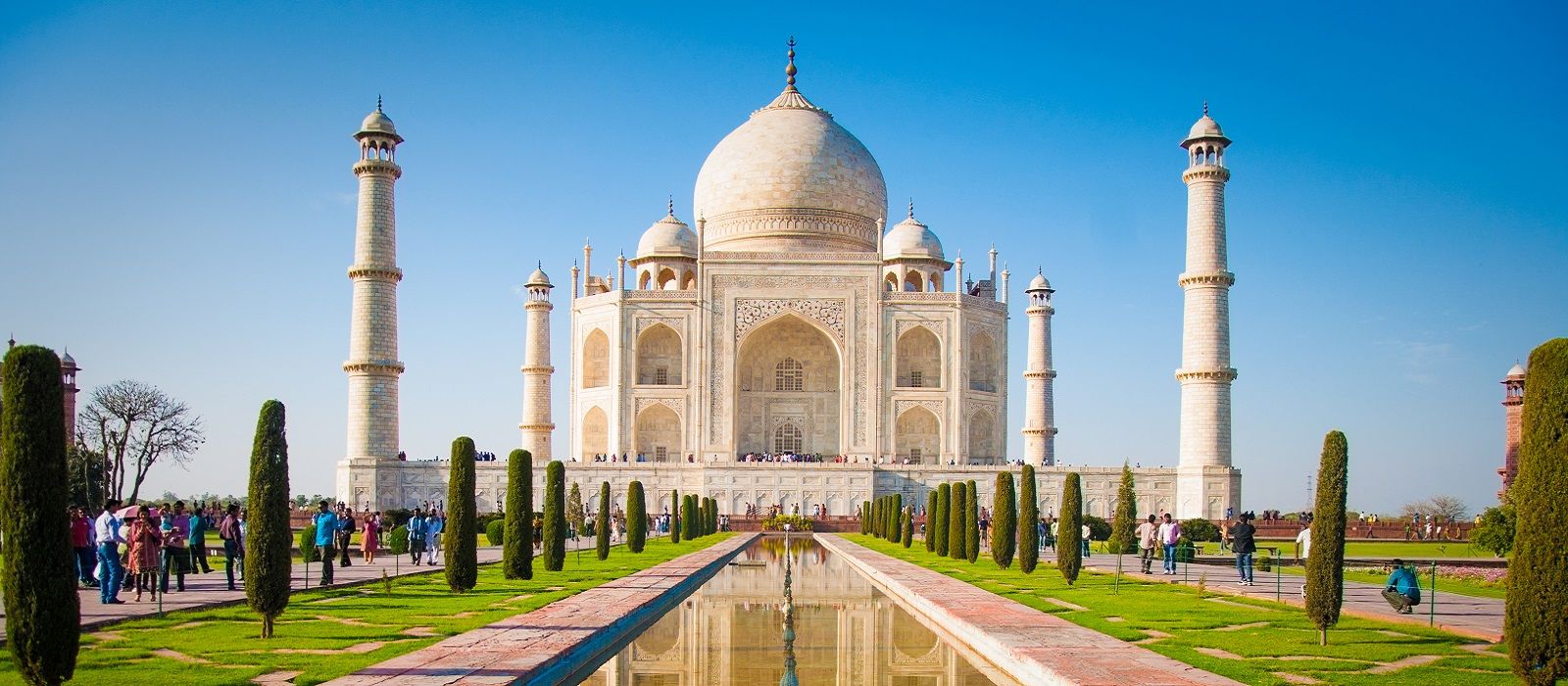 A city fulfilling in a splendour of Mughal charm, Agra needs no introduction. Home to an eternal symbol of love, the iconic 'Taj Mahal', it finds one of the first places on the world heritage map. Agra definitely makes it to the list of Tourist places in India. Moreover, it proudly hosts its three gems, the impressive Taj Mahal, magnificent Agra Fort, and splendid Fatehpur Sikri. Also, you can shop in the lively markets teeming with marble handicrafts adorned with beautiful inlay carvings and exceptional leather items.
Varanasi
Indian exploration remains incomplete without Varanasi- A Holy city. Also famous as the city of 'Liberation', the place holds a great religious significance for Hindus. Residing on the banks of sacred river Ganga, the city is believed to be more than 5000 years old. It is bustling with enchanting ancient temples and holy Ghats crowding with people performing various rituals and prayers. Varanasi makes for an ultimate Tourist Places in India. Further, you can pay homage to Lord Shiva in the famous 'Kashi Vishwanath Temple', take a dip in holy waters of river Ganga to absolve your sins. While taste the delicious 'Benaras ki Chaat' or shop the world-famous 'Benarasi Silk Sarees'.
Aurangabad
Dotting with plenty of ancient monuments, Aurangabad is a historical city residing in Maharashtra. Mostly famous for its stunning Buddhist cave paintings of Ajanta & Ellora, a world heritage site it is visited by millions of people for various other reasons too. Moreover, the magnificent 'Bibi ka Maqbara' houses the tomb of Begum Rabia which attracts many historians, architects, and art lovers. 'Kala Darwaza' and 'Rangeen Darwaza' will provide you with an insight into the artistic skills of the artisans and craftsmen of the past era. Also, the city's one of its kind cultural fiesta of 'Ellora Ajanta Festival' showcases the talent some of dancers and musicians across the country.
Sunderban
Habitat to the world's most extensive mangrove forests, inhabiting with the man-eating royal Bengal tigers. Sunderbans is undoubtedly the famous offbeat Tourist places in India. Situating on the mouth of the mighty Brahmaputra and river Ganges, the forests serves home to countless species of wild animals, reptiles, and birds. Moreover, Sunderbans always lures adventure buffs, nature lovers and bird watchers from across the globe.
Kerela
Pristine backwaters, coconut fringed beaches, revitalising Ayurvedic massages and colourful festivals. Yes! You got it right. I am talking about God's own country, Kerala, one of the most magnificent places in India with a footfall of thousands of tourists every year. Tucking between the Arabian Sea and the Western Ghats, it is filled with pure beauty. However, Kerala is also home to the scenic hill station and numerous wildlife sanctuaries. Also, you can enjoy thrilling elephant rides at the 'Periyar Wildlife Sanctuary' and enjoy mesmerising Kathakali performance at the 'Kathakali Centre'.
Andaman & Nicobar island
Andaman & Nicobar is a group of more than 500 shimmering islands tucked in an infinite expanse of the Bay of Bengal. It is famous for its picturesque beauty with pristine beaches, azure waters, and verdant forests. However, Asia's best beach, 'Radhanagar Beach' on the 'Havelock Island' is a paradise for honeymoon couples who enjoy here. Also, for water sports lovers, it offers a perfect ambience to indulge in some world-class scuba diving and sea walking experience. Moreover, it is the most amazing tourist places in India attracting almost millions of couples from all over the world.
Mysore
Considering to be the cultural capital of Karnataka in South India, Mysore is a historic city popular for its ornate palaces and gardens. Rapidly developing as an IT hub, the town still retains its old world cultural charm. Needless to say, every attraction of Mysore unfolds a new story correlating to the city's glorious past. Moreover, you can walk past the elaborate pathways of the magnificent 'Mysore City Palace' dazzling with thousands of bulbs against the dark night sky. In addition, take a relaxing stroll through the sprawling 'Brindavan Gardens' embracing with musical fountains along the pathways.
Well having gone through all the above information, you now may be amazed to know how a country can embrace millions of varieties of beauty. To explore such a magnificent country with an adorable and multilingual population, You are always welcome.
When it comes to the question of what to do in India, clearly there are many answers. Any questions about the best tourist attractions in South India? Do you have other suggestions? Drop us a message in the comments below!
Have a fantastic trip!