Resorts in Miami
Miami is one of the world's most popular vacation spots. The Miami area does indeed offer multiple enticements for everyone: Stretches of warm sunny beaches, pools, rooftop bars, breath-taking ocean views, and spas define life at Miami, the exciting coastal city of Florida. Seemingly endless shopping opportunities in modern, sprawling malls and the quiet, personal attention offered by the family-owned shops of Coconut Grove and many other corners of the region. Miami also provides music of orchestras and the whiff of delicious food. Here are some of the best luxury resorts in Miami Florida for your tryst with surf, sun and the sea.
Elevation: 2 m
Local time: Tuesday, 5:03 AM
Weather: 27 °C, Wind SE at 13 km/h, 87% Humidity
Population: 4.63 lakhs (2017)
Area code: Area code 786
8 BEST RESORTS IN MIAMI
From luxury to Pocket-Friendly, these Eight resorts in Miami has something for all. Begin Scrolling to know all about best resorts in Miami.
The St. Regis Bal Harbour Resort
The Fisher Island Club
Acqualina Resort & Spa on the Beach
Fontainebleau Miami Beach
Carillon Miami Wellness Resort
Trump International Beach Resort
Royal Palm South Beach Miami, a Tribute Portfolio Resort
Eden Roc Miami Beach Resort
The St. Regis Bal Harbour Resort
Situated at the intersection of art, fashion, and design, the Forbes Five-Star and AAA Five-Diamond St. Regis Bal Harbour offers an unrivalled South Florida vacation experience. The St. Regis offers luxurious rooms with views of the ocean caressing the white sands, two rejuvenating infinity pools and a fantastic spa. Undoubtedly, complimentary cocktails, excellent food and top-notch service are other highlights of this sure shot winner property.
Address: 9703 Collins Ave, Miami Beach, FL 33154, USA
Phone: +1 305-993-3300
Website
The Fisher Island Club
The Fisher Island Club has a gorgeous setting along a pristine beach on a private island with access to a golf course. It is the most luxurious and romantic resorts in Miami. The Fisher Island Club and Hotel is located on a private island and features access to a golf course and private beach areas. Moreover, free fitness classes and a sauna are available at the Club and Hotel as well as tennis courts. A golf cart is provided for inland transport, and open umbrellas, chairs, and towels are available for the beach.
Address: 1 Fisher Island Dr, Miami Beach, FL 33109, USA
Phone: +1 800-537-3708
Website
Acqualina Resort & Spa on the Beach
Acqualina Resort & Spa on the Beach is a place where the charm of a Mediterranean villa meets elegance on the beach. Located on 4.5 beachfront acres with 400 feet of stunning Atlantic Ocean coastline, Acqualina features a combination of handsome residences in addition to its perfect guest rooms and suites. Other stylish, pampering facilities and amenities include a 20,000-square-foot ESPA spa; three oceanfront restaurants, including the acclaimed Il Mulino New York; three oceanfront swimming pools; and an innovative marine biology-based children's program, AcquaMarine.
Address: 17875 Collins Avenue, Sunny Isles Beach, FL 33160, United States
Phone: +1 305-918-8000
Website
Fontainebleau Miami Beach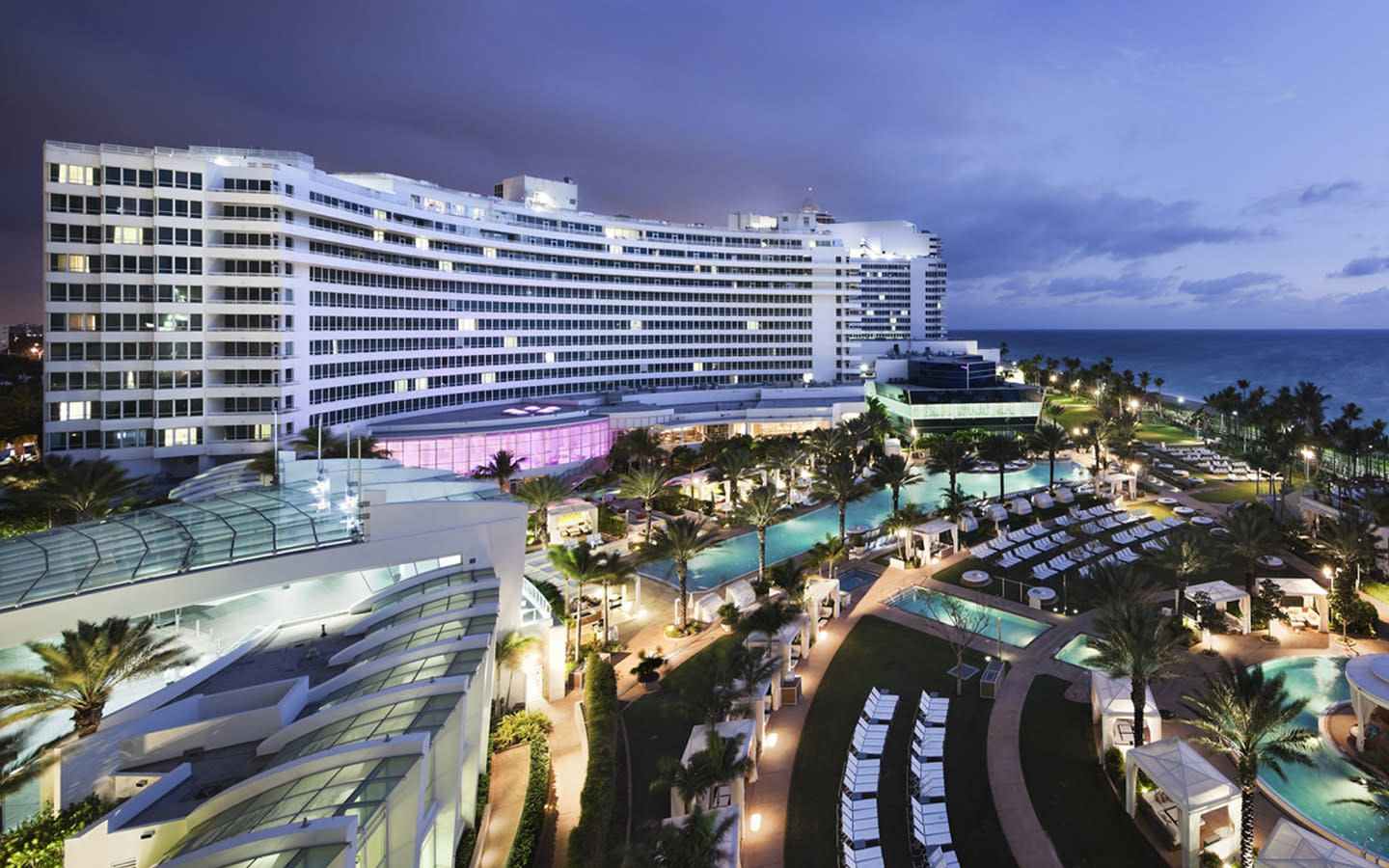 Beachfront Fontainebleau Miami Beach features scenic ocean views and six outdoor swimming pools surrounded by private cabanas. A nightclub, nine restaurants, and a spa are located on site for comfort. From the spotless marble floor to grand chandeliers, a dazzling nightclub and eight in-house restaurants, everything at Fontainebleau oozes style and grandeur. Hotel Fontainebleau Miami Beach offers fine dining establishments with a wide range of cuisines, including Chinese, Italian, and Japanese. Also, Guests can enjoy oceanfront dining at La Cote or relax with coffee and cake at Chez Bon Bon.
Address: 4441 Collins Ave, Miami Beach, FL 33140, USA
Phone: +1 800-548-8886
Website
Carillon Miami Wellness Resort
This 5-star resort also voted as the top spa resorts in Miami Beach has been conceptualised as a complete wellness retreat. The world-class thermal spa experience and 5-star service go a long way in making this one of the most beautiful Miami resorts. It beautifully blends luxury with well-being, offering a rejuvenating experience for the mind, body and soul through its innovative therapies, spa treatments and fitness classes.
Address: 6801 Collins Ave, Miami Beach, FL 33141, USA
Phone: +1 305-514-7000
Website
Trump International Beach Resort
Trump International Beach Resort Miami features 356 spacious guest rooms, studios, junior suites and one- and two-bedroom suites with stunning views of the Atlantic Ocean or Intracoastal Waterway. Also, the resort's complimentary, fully supervised children's program welcomes our youngest guests for daily activities, fun and hands-on learning about the Sunshine State. In addition to that, it located in exclusive Sunny Isles in North Miami, and Trump International Beach Resorts offers guests easy proximity to world-famous South Beach, vibrant little Havana and beautiful Bal Harbour.
Address: 18001 Collins Ave, Sunny Isles Beach, FL 33160, USA
Phone: +1 855-736-9909
Website
Royal Palm South Beach Miami, a Tribute Portfolio Resort
Ideally located in the vicinity of the iconic Ocean Drive, this is one of the best South Beach Miami resorts offering luxury and great value. Welcome drinks, chilled champagne in the room, elegant art deco interiors and unmatched beach facilities are some of the top reasons for choosing this beautiful resort. Royal Palm South Beach Miami is an oceanfront resort situated within the coveted and culturally rich area of South Beach, Miami. Moreover, the resort provides guests with a location offering direct beach and Miami boardwalk access and is immersed in luxury retail on Collins Ave.
Address: 1545 Collins Avenue, Miami Beach, FL 33139, United States
Phone: +1 305-604-5700
Website
Eden Roc Miami Beach Resort
In the heart of the city at the edge of the sea, Eden Roc Miami Beach provides a modern, comfortable setting for relaxing and enjoying the view. The stylishly elegant interiors, attentive The resort also offers exciting dining options with a Japanese excellent dining place and an organic farm-to-table restaurant. Also, there are three swimming pools, ocean-view cabanas and a celebrated 22000 sq feet spa and fitness facility. Staff (especially the friendly beach staff) and spacious rooms are an absolute delight.
Address: 4525 Collins Ave, Miami Beach, FL 33140, USA
Phone: +1 305-520-7197
Website
When it comes to the question of where is the best resort in Miami, clearly, there are many answers. Any questions about the best Resorts in Miami? Do you have other suggestions? Drop us a message in the comments below!
Have a fantastic amazing trip to Miami!
Read also:
Places to visit in Norway
Places to visit in Canada
Best Christmas Gift Ideas for Travellers