Beaches near New York
New York City comprises five boroughs sitting where the Hudson River meets the Atlantic Ocean. At its core is Manhattan, a densely populated borough that's among the world's major commercial, financial and cultural centre. The city of New York is known for its skyscrapers, the Empire State Building and the busy urban life, but there are some exquisite beaches near New York.
Local time: Monday, 6:50 AM
Weather: 3 °C, Wind W at 5 km/h, 74% Humidity
Population: 86.2 lakhs (2017)
Country: United States of America
Beautiful Beaches near New York
Here are some of the best beaches near New York. Photography lovers and water babies are certainly going to enjoy their day out on the gorgeous beaches. Scroll Down to know all about beautiful beaches near NEW YORK.
Jacob Riis Park Beach
Rockaway Beach
Orchard Beach
Coney Island Beach
South Beach
Long Beach
Jones Beach
Robert Moses State Park
Brighton Beach
Manhattan Beach
Jacob Riis Park Beach
It is "People's Beach" of New York. National Park Service maintains this beach. It allows the sunbathers a beautiful quarter-mile long waterfront. The best thing about this beach is Riis Park Beach Bazar. If you want to go to Riis Park Beach Bazar, you can take a bus from Manhattan. Also, there is the NYC Metropolitan Transit Authority (MTA) SUBWAY.
Rockaway Beach
Rockaway Beach is the largest Beach in the United States, It is the only beach in New York that offers surfing. The beach consists of two separate stretches for surfing on the beach. The best thing about this beach is that it is good for the beginner as well as for trained surfers. The beach is an hour away from downtown NYC. You can enjoy swimming and mouth-watering food at the food joints here.
Suggested Read: Beaches in Scotland
Orchard Beach
Orchard Beach is famous for its unique crescent shape with a beautiful view of the City Island and attracts thousands of New Yorkers during the summer. It is The Bronx's only public beach whose shore was created by Robert Moses in 1930s. You can enjoy various sports activities like volleyball, basketball, and handball at the Beach.
Coney Island Beach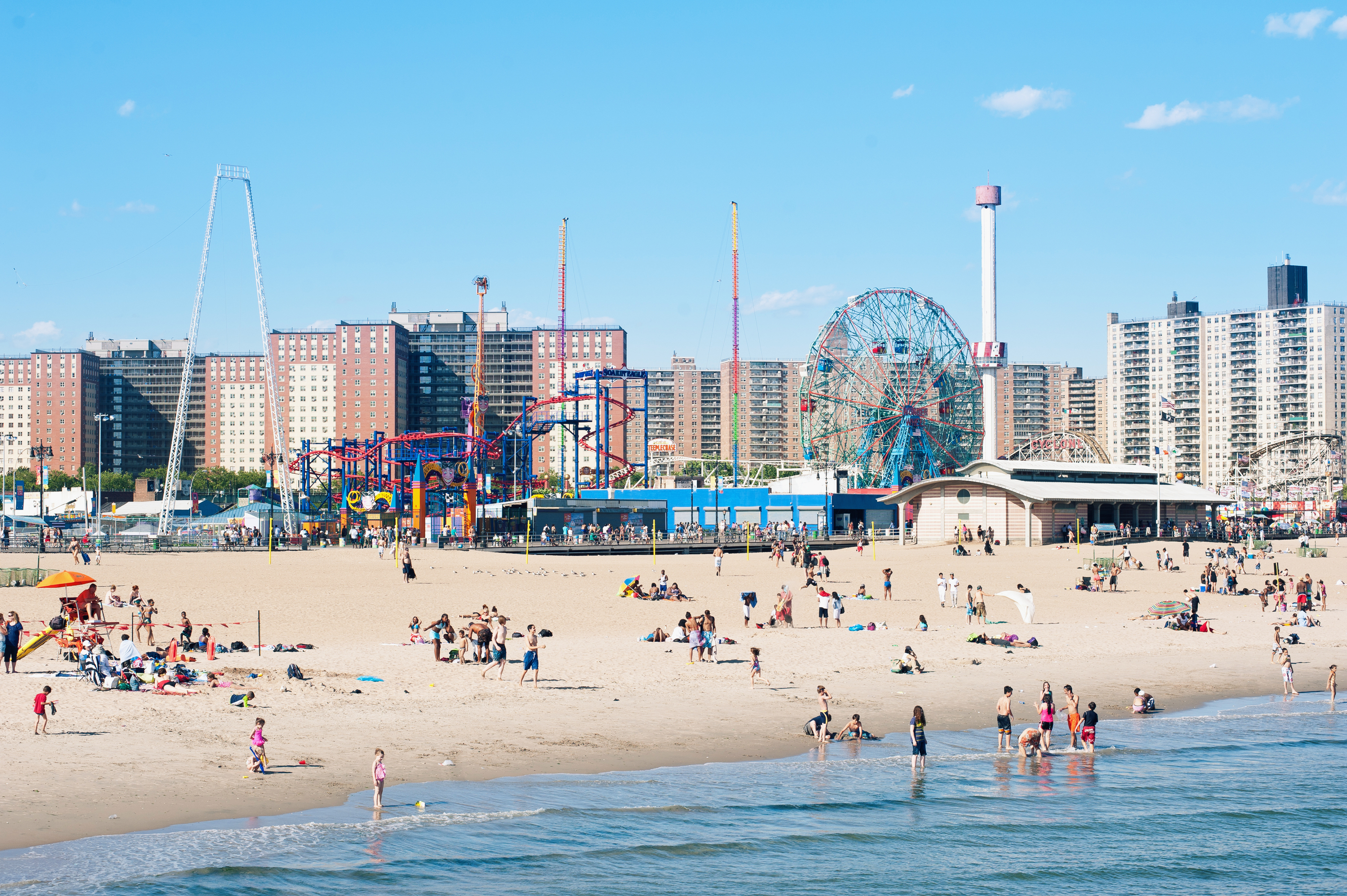 It is one of the best-known beaches, Coney Island Beach. It has got a new facelift recently. One of the attractions of the beach is its easy accessibility through cheap subway ride from Midtown Manhattan which takes less than an hour. The boardwalk has been renovated, new showers and toilets have been installed, and the 2.5-mile beach is once again clean and inviting.
Suggested Read: Beaches in Sweden
South Beach
South Beach is famous for its beaches and the exciting scene around its happening nightspots and celebrity-chef eateries. This Staten Island beach in New York area is adjacent to Midland Beach and called the "Riviera of New York City". It offers mesmerising views of the Verrazano Bridge with some outdoor activities like kayaking, fishing, and exploring the beach on bikes. Also, there are lovely two miles long wooden boardwalk. You can enjoy "Fountain of Dolphin" at the beach.
Long Beach
Long Beach is an hour train ride from New York. It located at the south shore of the Long Island. This small city was founded in 1880 and was devastated by the Sandy superstorm in 2012. The beach consists of 3.5 miles of soft sand and is a host to sunbathers, boogie-boarders, surfers, boaters, and swimmers.
Jones Beach
The world-famous Jones Beach State Park consists of a 6.5 miles stretch of beautiful white sand on the Atlantic Ocean. More than 6 million visitors come to the park each year to enjoy activities like swimming, strolling, and fishing. There are some fantastic eateries at the beach which offers a cheap bite. Jones Beach Nature Centre is a must visit the place to peek into the marine life.
Suggested Read: Beautiful Places to Visit in the United States
Robert Moses State Park
Situated at Long Island, this 875-acre state park lies on the western end of Fire Island and is known for its five-mile stretch of beaches on the Atlantic Ocean. Travellers can enjoy swimming, fishing and surfing here. There is also a volleyball court and a golf course. The 200-year-old lighthouse consists of 192 steps and offers excellent sea-front views. Robert Moses State Park is heaven for visitors.
Brighton Beach
Brighton Beach is at the southern part of the New York City borough of Brooklyn and is also known as "Little Odessa". It attracts surfers and sunbathers, and the view of the beach is mesmerising. Also, there is residential buildings, ethnic restaurants and market that offers fantastic food.
Suggested Read: Things to do in New York
Manhattan Beach
Within walking distance and at the east of Brighton beach in the same Brooklyn peninsula, is the Manhattan beach which is popular with families and outdoor enthusiasts. Created in 1877 as a summer resort, now it is famous for family picnics and barbecues. There are some fantastic parks where you can enjoy sports activities such as tennis, handball and other activities.
Explore this beautiful beaches near New York to have a fantastic time on your vacation. If you want to know more about New York comment down below. I would love to help you.
Suggested Read: Beaches in Scotland