Top of numerous travellers' must-visit lists
South Africa is at the exact southern tip of Africa. It is a huge country with widely varying landscapes & has 11 official languages, as well as an equally diversified population. South Africa is renowned predominantly for its wines and is one of the world's massive manufacturers of gold. In the past few years, South Africa has raced to the top of numerous travellers' must-visit lists. Fulfilled with stunning vistas, cool cities, & all that famous African wildlife, the country really does possess it all.
Ultimately, Visiting South Africa becomes a dream come true for those people who appreciate architecture & aspire for a classy lifestyle.
So without a further ado let's get ready to explore the Tourist attractions in South Africa.
Cape Town
Cape Town sparkles at the southern toe of the African continent as the epitome of Tourist attractions in South Africa. Tourist brochure-views at Blaauwberg Beach and Kirstenbosch National Botanical Gardens are within the easily drivable distance of "The Mother City." Further, The Cape of Good Hope Nature Reserve renders sweeping sea vistas, hiking trails & wildlife encounters.
Also read: Place to visit in Cape Town 
Johannesburg
Johannesburg is one of those Tourist attractions in South Africa which is a place to head for a mix big-city culture. It includes shopping, dining & nightlife along with outdoor adventures. Also, it adds to its list up-close wildlife encounters & visits to historical scenes. Do remember to explore the caves & nature reserves or a traditional village. With malls, open-air markets and places that blends both, you'll find ample of unique souvenirs right over there.
Must read: Things to do in Johannesburg
Pretoria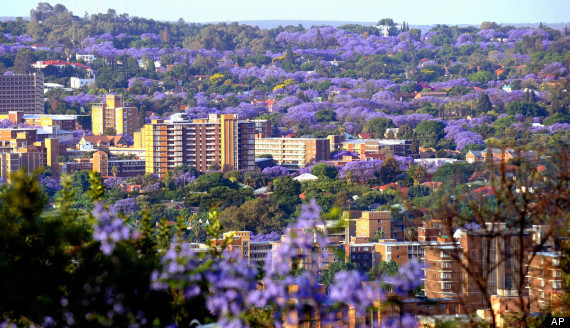 Pretoria is a beautiful view of purple, thanks to its abundant blossoming trees that gives the South African metropolis its nickname as Jacaranda City. Give it to the animal attraction of the National Zoological Gardens of South Africa, then get up close & personal with the bad & big cats of the Cheetah Research & Breeding Centre. The buildings of Pretoria embraces diverse architectural styles and influences, further creating a unique urban landscape.
Durban
The Indian & British colonial influences in this South African beach city can never be avoided, however, the blend of its cultures and architecture makes Durban place 3rd in the list of Tourist attractions in South Africa. Durban's Golden Mile is a destination for surfers, families & fisherman, due to the blend of its aesthetic beauty & modern resorts. Major-city attractions abound, making Durban a good destination for families and couples alike.
Check this out too: South Africa Duty Free allowance 
Port Elizabeth
Port Elizabeth or The Bay) is one of the major cities in South Africa. The city, often nicknamed to as PE & nicknamed "The Friendly City" or "The Windy City", stretches for Approximately 16 km along Algoa Bay, & is indeed one of the main seaports of South Africa. Port Elizabeth was discovered as a town in 1820. However, It was built to house British settlers as a way of strengthening the border region between the Cape Colony & the Xhosa. Further, It now forms as a portion of the Nelson Mandela Bay Metropolitan Municipality.
Stellenbosch
Hiking trails and art galleries are abundant in Stellenbosch, but when it comes to wine then it is the epitome of all. More than a 100 wine shops, mostly open for the public 24*7. Winter brings along a four-day festival celebrating the local vintages. The historic town centre sports the trading-post style shop Oom Samie se Winkle, the Neo-Gothic Moederkerk church,& museums dedicated for toys, military memorabilia, autos and early life on the Cape.
Kynsna
Knysna stands at South Africa's famed Garden Route thanks to the sandstone cliffs that dramatically separate its tranquil lagoon from the pounding surf of the Indian Ocean. It serves as home to the country's largest indigenous forest, so Jump aboard for a ferry ride through the scenic highlights. Be sure to try some of the local oysters during the renowned annual festival.
Sandton
Sandton is an affluent area in the Johannesburg Municipality, Gauteng, South Africa. The name is a combination of two of its suburbs, Sandown and Bryanston. It is popular as 'Africa's richest square mile'. Sandton has strived upward with a barrage of Manhattan-style skyscrapers that caters as landmarks throughout Johannesburg, for Ex. Sandton City's pyramid-style rooftop.
South Africa is an extravagant place filled with Beauty, liveliness & Facilities offered by peoples. So be sure to visit South Africa because of its Now or Never.