New Year Celebration in Canada
It is the most awaited time of the year when people from all over the world indulge in a partying spree. If there is a party night of the year, it's 31st December. It is the time when everyone prepares for the New Year. However, where are the best places for New Year's Celebration?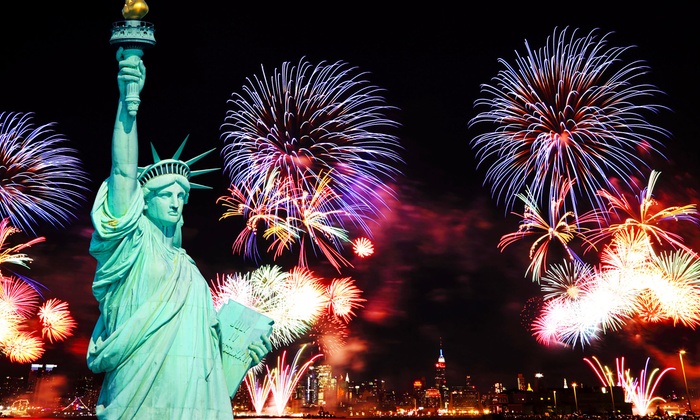 Canada diverse culture and traditions create a tremendous New Year experience. As 2019 approaches, New Year Celebrations in Canada is set to be bigger and more thrilling than ever before. Canada has a variety of options for New Year celebration which includes: fireworks over Quebec City, Banff and the Niagara Falls, Vancouver, Calgary and Montreal.
Cities in Canada are the best places to be for New Year Celebration as they host amazing New Year's Eve parties throughout the country.
Below is the list of best places for New Year celebration in Canada, that is a must visit during New Year time.
1. Niagara Falls
2. Toronto
3. Vancouver
4. Ottawa
5. Montreal
6. Calgary
Niagara Falls
It is the place where Canada's longest running New Year's Eve is celebrated, and it is back to Niagara Falls to start 2019 in Queen Victoria Park with so many fun activities.
Each year it attracts more than 50,000 people. The event includes two fireworks shows and numerous food and beverages options to enjoy.
2019 concert features a Canadian all-star line-up:
1. An event is going to start at 8 pm and with Niagara Falls-based ban and winner of the band of the year at the Niagara Music Awards
2. Next, Saskatoon based-band and The Sheepdogs will take the stage at 9 pm and will play their award-winning hits
3. After this, Walk of the Earth will perform a set of their multi-platinum tunes
4. Burton Cummings will be closing out of the year and the show!
It is ultimately your choice either you want to come for an entire show or want to grab dinner and then catch the midnight fireworks. New year Celebration is worth at Niagara Falls.
Toronto
Whether you are looking for Adults party, family fun, comedy, retro party or an intimate clubs, the lively city of Toronto has everything for you for your New Year Celebration!
Head to "The Mod Club" if you are looking for retro as the club is specially designed with the famous event "From Britain with Love." Also, this event has made numerous visitors coming to the city for New Year's Eve. Nathan Phillips Square in Toronto is the place to skate on the famous outdoor rink where you can enjoy a local DJ and live music and picturesque fireworks display at night.
Vancouver
If you want to celebrate New year on the water, Vancouver is the right place. The city of Vancouver offers a variety of choices to celebrate NYE on cruises which are mostly completed with dancing, drinks and champagne. If you want to celebrate your New Year in a unique style, Vancouver Charters and its Luxurious Pride vessel is the right place. As, the site offers entertainment, dancing and delicious buffet, all in the luxury cruise. Vancouver is the right place for all the singles as on the queen of diamonds cruise party brings up to 400 other singles who are looking to meet someone. Vancouver is the place for countdown parties, midnight fireworks and enough fun activities.
Ottawa
Ottawa, Ontario is the capital of Canada and is the right place for New Year Celebration. Head to Ottawa for TD Hogmanay Scottish New Year's Party. It offers plenty of activities to enjoy like Celtic music, ice sculpt, scotch taste, live music and more.
It is famous for a fantastic display of fireworks off the roof of city hall. Also, you can enjoy several Family events, Rick Chiarelli's New Year Eve where there are many alcohol-free events, and includes countless entertainers. Also, it contains magicians, painters and many other artists which helps in making New Year special.
Montreal
Montreal is famous for its party which held at the L'Olympia de Montreal. 2500 people gather for a drink, dance and New Year Eve.
It has many clubs like Roxbury, Rouge Nightclub and La Boom where you can easily see the crazy crowd. Montreal is the hottest place to be for New Year Celebration.
Calgary
Calgary is the right place where you can celebrate your New Year with your family. It offers a variety of fun activities to do. Also, there are plenty of adults-only parties too, so if you want to enjoy that you can head to Calgary.
Calgary Olympic Park is the right place to go with kids. It offers a bundle of fun activities like skating, music and family fun and fireworks.
For Adults, the Mystique Ball, the Black and White Ball at the Casino or the Beatmatrix Gala. These are the right place as there you can celebrate your New year in a unique style. Calgary, Alberta is one of the best places to be to ring in the new year.
Read Also: Canada Duty-Free Allowance