St Petersburg Sightseeing
When it comes to St Petersburg sightseeing, the tours can be as quirky and exciting as the city itself. It's all about hot air ballooning, helicopter tours, Retro Tram Rides, Sledding and even Segway rental. St Petersburg is impressive for all type of travellers because it offers various activities to do. So, if you are planning a trip to Russia, St Petersburg must be in your bucket list!
Fun Activities in St Petersburg
1. Helicopter Tour
2. Hot Air Ballooning
3. Light Plane Flights
4. Sledging at Peterhof
5. Retro Tram Rides
6. Segway Rental
Helicopter Tour
A thrilling way to see new destination, a helicopter tour is very famous among visitors for St Petersburg sightseeing. Many companies offer helicopter rides over the city and its islands. It ensures you have a spectacular bird's eye view of some of the magical landmarks this beautiful city has to offer.
Duration: varies from 20 to 60 min
Group: 1-6
Season: All year
Language: English
Tour type: Helicopter tour, Adventure and Sightseeing
Hot Air Ballooning
Hot air ballooning is a once in a lifetime experience for many visitors. It offers Panoramic vistas and a different way to tour the city. The balloon attaches to the basket is known as Envelope. Visitors climb into a bucket, air trapped in the aircraft is then heated up by an open flame which causes the whole contraption to rise into the air.
Duration: 60-90 min
Group: 1-4
Season: All the year round
Language: English
Tour type: Air Tour, Adventure
Light Plane Flight
Light Plane Flight make St Petersburg Sightseeing Tour more memorable. It offers many routes, ranging from 15 minutes loop over the city centre to hour-long flights taking in the whole OF St Petersburg and Kotlin Island. Also, you can opt for evening flights if you want to witness the City illuminated by millions of lights.
Duration: 15-60 min
Group: 1-3 Season: All the year round
Language: English
Tour type: Air Tour, Adventure
Sledging at Peterhof
When the snow falls in the ground of Peterhof, it becomes special winter tours for those who are keen on sightseeing and active adventures. Large dogs pull malamute sledges and wind their way around the grounds. You can explore the lavish palace and can stroll in the lower park, around ponds and fountains.
Duration: 6 hours
Departs: Hotel in St Petersburg
Returns: Returns to an original departure point
Retro Tram Rides
The City Electrical Transport Museum runs weekend tours around St Petersburg. You can enjoy St Petersburg sightseeing on an old tram car from the 1930s. It takes around 2 Hours. The Tour runs across the Petrograd slide then via Sennaya and Kolomna to pl Turgenava before returning.
Price: per person R200
Hours: Sat & Sun
Contact: 812-321 5405
Location: Sredny pr 77, St Petersburg, Russia
Segway Rental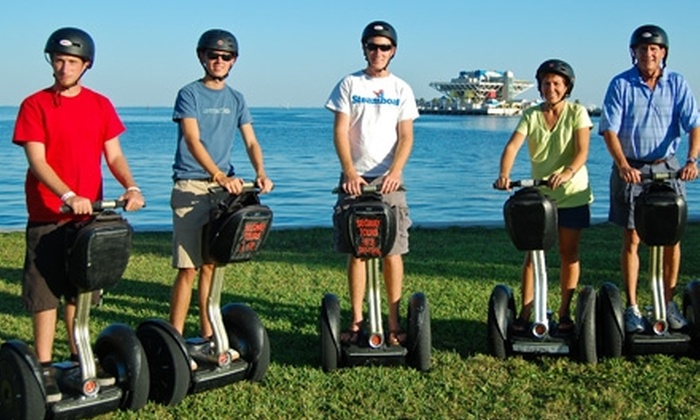 One of the most exciting St Petersburg sightseeing tours takes visitors around the city by Segway. You can hop on one of the self-balancing vehicles and can easily nip between sights. Segway Rent depends on the guests what they want to see and how much time they want to spare.
Read Also: Venice Walking Tour and Gondola Ride