Top Places for Music Concerts Worldwide
There's a whole new level of difference between jamming to your Beats and experiencing live music in person. Primarily, those strangers think you're a whack job when you dance in public, but concert-goers know you're a big-time enthusiastic fan. Great concerts aren't just solely about great acoustics. However, adding in a beautiful backdrop can instantly kick any show all the way up till midnight.
Moreover, that's where these places change the scenario. With stained glass windows, ancient bas-reliefs, and monolithic sandstone formations, these are the Top places for music concerts worldwide.
It is good medicine to go to a concert hall and forget the harshness of what's going on. It can be a very positive thing.
– Itzhak Perlman
Madison Square Garden, New York
New York's Madison Square Garden the most Top-class venue is this multi-purpose sporting arena, with its 20,000 seats concentrating on a central stage. Colloquially popular as The Garden or in initials as MSG is a multi-purpose indoor arena in the New York City borough of Manhattan. Residing in Midtown Manhattan between 7th and 8th Avenues from 31st to 33rd Streets, it situates atop Pennsylvania Station. This is where Kanye West debuted his seventh album 'The Life of Pablo'. It's where LCD Soundsystem even had their 'last ever' gig in 2011 before reuniting in 2015, and Madonna has played it more than 30 times.
Suggested reads: Things to do in New York
Amphitheatre, Colorado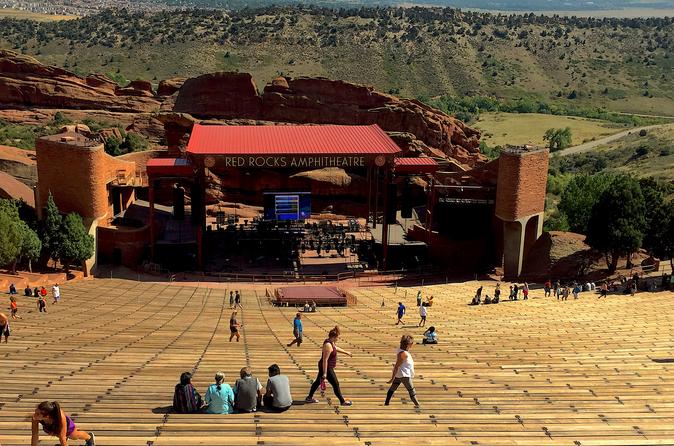 The history of Red Rocks Amphitheatre as a music venue dates back to 1906. It's when a guy namingJohn Brisben Walker set up a funicular to the area and a temporary platform for performance. However, the amphitheatre itself got completed in 1941. In its era, the eye-popping open-air venue has played host to legends including Jimi Hendrix, The Beatles, and Depeche Mode. Recent gigs from artists including Gorillaz, Chance The Rapper and Fleet Foxes.
Théâtre Antique d'Orange, France
Built in the first century, Theatre Antique d Orange is the UNESCO World Heritage site, carved into a hillside in Provence, France. It has undoubtedly seen some very serious thrills. Alike, Caligula-style action, since it was initially a Roman theatre. Moreover, if the venue's age doesn't make you feel insignificant enough, its ancient 338ft x 121ft stage wall and intricate stone bas-reliefs will make you feel puny. Nowadays, the theatre sees mostly operas and hosts the world-famous annual festival of Les Chorégies d'Orange, which packs approximately 9,000 seats.
Must read: Places to visit in France
Sydney Opera House, Sydney
Sydney Opera House is worth 44 years old. It's one of the bustling performance centres in the world, with over 2000 shows within 363 days per year. Far from just catering to opera fans, this venue in Sydney hosts plenty of concerts here from the likes of Bon Iver, The National, and Aussie punk-rock dudes Royal Headache. Moreover, the latter in 2015 encouraged the crowd to leave their seats and wildly mosh onstage, even prompting security and police to bring the show to a halt.
Must read: Vivid festival Sydney
Walt Disney Concert Hall, Los Angeles, CA
Talking about The Walt Disney Concert Hall in Los Angeles the matte, stainless steel exterior of this building, with its curves and undulations, looks when a skyscraper dropped acid as a self-portrait. However, the building's style truly represents music and motion. The acoustics are practically perfect, thanks to Gehry's work with acoustical consultant Yasuhisa Toyota. Moreover, this is a concert hall for the people, since it features the orchestra and audience on the same level without boxes, balconies, or even view-obstructing columns. The first ever movie premiere which happened at the concert hall was in 2003 when The Matrix Revolutions held its world premiere. The Hall is also featured in the video game Midnight Club, Los Angeles. Moreover, it has hosted many Block-Buster premiers with a bucket of many other Hollywood movies.
National Centre for the Performing Arts, Beijing, China

Usually being compared to an egg, the NCPA in Beijing, China is a titanium and glass ovule that appears to float on water. It clearly sits on a human-made lake, completing with an underwater entryway that leads to the three performing spaces inside. While subtle to believe, the futuristic design is there to complement the red walls of the nearby Forbidden City. So that works, although it's tough to shake its resemblance to Disney World's Epcot Center.
Suggested read: World's longest bridge in China
The Albert Hall, London, UK
Apt for a king or queen the Royal Albert Hall, London, United Kingdom was commenced by Queen Victoria in 1871 for her consort, Prince Albert. It hosts a capacity of up to 5,272 seats. By the way, a consort is a way to say to a husband. However, the building inspires from the architecture of Northern Italy and consists of 6 million red bricks and 80,000 blocks of terracotta. It also hosts a substantial wrought iron dome, the biggest in the world at the time it was built. Additionally, the 800ft mosaic frieze dictating "The Triumph of Arts and Sciences". It makes the building so distinctive it was spared by German pilots during the blitz at the time.
Suggested read: Things to do in London
O2 Academy Brixton, London
The O2 Academy Brixton in London is a former cinema and theatre that opened in the 1920s. Known as the Academy since 1983, it's one among the biggest non-arena venues in London with a capacity of 5,000. Moreover, recent months it's been used by artist like The Killers, Lana Del Rey, Mac DeMarco and Gorillaz. Since 1994, it's won venue of the year 12 times at the NME Awards.
Additional fact: The Mighty Boosh and The XX share the record for consecutive nights playing at the venue as both have done seven in a row here.
The Royal Opera House Muscat, Oman
The Royal Opera House was opened in 2011 and was built by the same architects as that of the Grand Mosque. What, you don't know the architects of the Grand Mosque? It accommodates a maximum of 1,100 people. The opera house complex comprises of a concert theatre, auditorium, formal landscaped gardens, cultural market with retail, luxury restaurants.
The palace-akin exterior of the Royal Opera House equips sleek marble and limestone to keep with local architecture and traditions. On the Contrary, the inside is a treasure trove of inlaid wood and Arabian flair. It's also the first ever opera house in the world to feature Mode23. It is an interactive display that renders a simultaneous translation of the performance.
Check this out too: Oman Duty-Free Allowance
Esplanade, Singapore- Theatres on the Bay
Money isn't an object in Singapore. However, objects like Esplanade for sure are worth much money worth a staggering at these days. Well, its worth a staggering $800 million. Esplanade Theatre, just right to the Marina Bay, features two spiky domes comprising of 7,000 triangles of glass-and-aluminium shades for maximising light. Of course, the structure resembles that of a durian fruit, honeycombs, flies' eyes and somewhat a musical instrument.
Must read: Places to visit in Singapore
Concerts are the way of expressing the music which really mesmerises anyone and everyone live. It makes you dive into the beauty of it all at once. If you're a music enthusiast make sure to explore all such places which are aforementioned.
P.S Become a slave to the Rhythm
Read Also: Best Places to Visit in Wales
Beaches near New York
Places to Visit in Hong Kong