Besides shopping, eating & plenty other things Bangkok can mesmerise you by the attractions it offers. Three are plenty of things to discover in this attractive metropolitan.
The capital city of Thailand never easily opens itself up to tourists, and many by mistake reject it as a busy destination for beaches or mountain getaways.
It can help you sort down to a manageable list for Novice. Places to visit in Bangkok now begins :
Wat Phra Kaew
Wat Phra Kaew or the Temple of the Emerald Buddha comes 1st in our list of places to visit in Bangkok. It Lives in the historic centre of Bangkok, within the grounds of the Grand Palace. Further, it embraces Phra Kaew Morakot, the highly revered emerald Buddha image carved from a single jade block. The Emerald Buddha image is in a meditating position resembling the ancient Lanna school of the north.
Watt pho(Temple of Reclining Buddha)
Wat Pho (AKA the Temple of the Reclining Buddha), resides behind the Temple of the Emerald Buddha. It ranks 2nd in the places to visit in Bangkok. It were one of the Biggest temples of the city and famed for its ginormous reclining Buddha measuring 46 meters long which is covered in gold leaf. Further, people should invest their time to roam around the whole magnificent complex. It is also a superb destination to get a traditional Thai massage. It is also considered as the leading school of massage in Thailand, so you are in safe hands.
Fees: 100 baht ($3)
Timings: 08:00 to 17:00.
Chatuchak Weekend Market
Chatuchak Weekend Market is one of the fascinating places to visit in Bangkok. Covering almost 35 acres, it has thousands of vendors and attracts nearly 200,000 shoppers on weekend time. Here you can head for Thai handicrafts, clothing, artworks, household goods & pets too.
However, the Demerit is that it's hot, crowded. Having said that, it's easy to get lost between the labyrinthine network of stalls, but that's why some people love it. The rest of them avoid the rush by going early in the morning, before 9 a.m., or later in the day, at 4 p.m.
Jim Thompson house
The legacy of Jim Thompson is very popular in every Thailand guidebook. Further, its brand'products are available in 13 shops around Bangkok and two factory outlets.
Places to visit in Bangkok also includes the historic Jim Thompson House as it throws light on the brand's mysterious namesake. In 1958, his architectural achievement was its peak. The museum was planned to comprise of a complex combination of 6 traditional Thai-styled homes. His home resides on a canal across from Bangkrua, where his weavers use to live. Majority of the 19th-century houses from Ayutthaya are now in a new place. Howsoever, the biggest, a weaver's house (now the living room), came from Bangkrua itself.
The Grand Palace
The Dazzling Grand Palace undoubtedly is the city's most popular landmark. Built-in 1782 & for 150 years the house of the Thai King, the Royal court and the administrative seat of government. It strives the visitor's jaw drop with its magnificent architecture and detailing, thanks to the creative craftsmanship of Thai people. Within its walls, there are Thai war ministry, state departments, & the mint. Today, the complex sustains as the spiritual heart of the Thai Kingdom.
Recommended reads: Places to visit in Thailand
Asiatique The Riverfront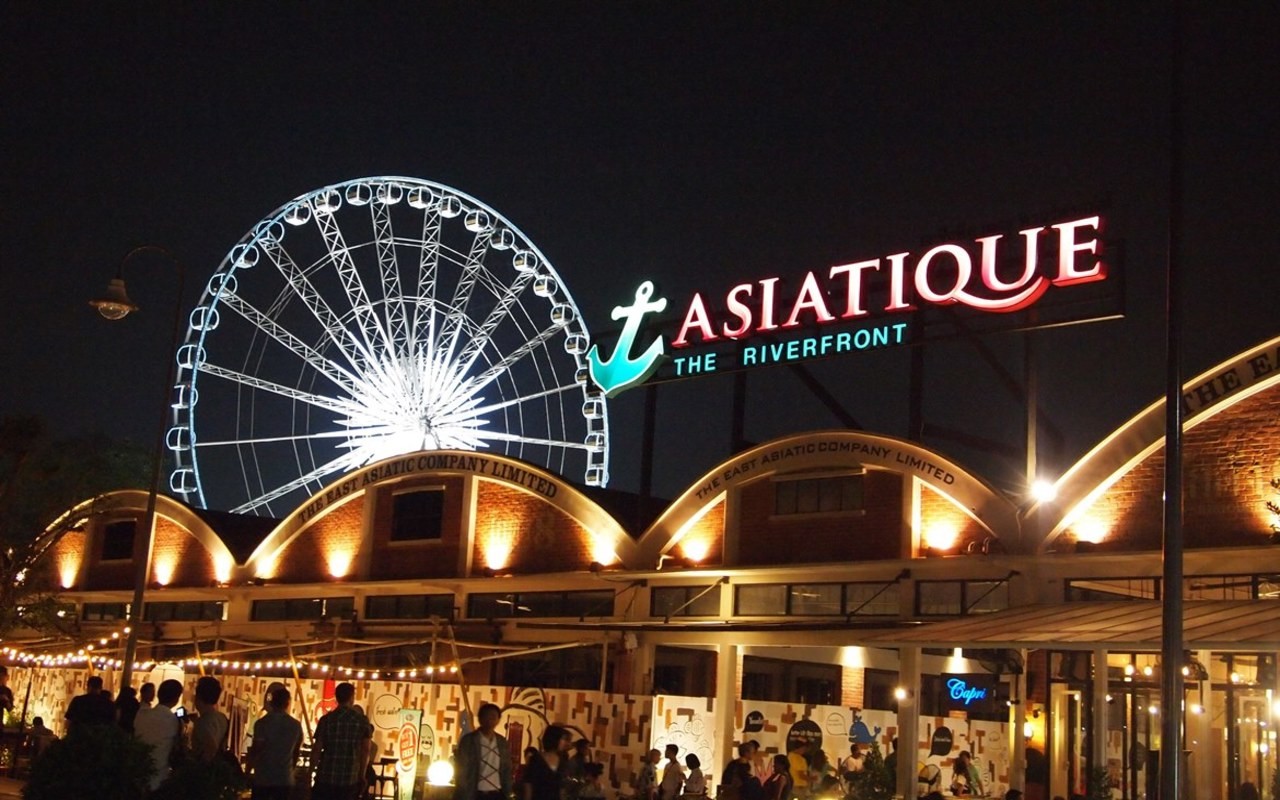 Asiatique The Riverfront is an enormous shopping and entertainment complex beside Bangkok's Chao Phraya river. Inspired city's days as a riverside trading post in the early 1900s, it resembles the traditional pier with warehouses roses.
The restaurants and bars include a combination of upscale bistro-style restaurants serving intercontinental cuisine along with a wine bar. There's also an outdoor, covered food court. The best route to approach there is to jump on the free shuttle boat that regularly runs from the BTS Thaksin Pier.
Museum of Contemporary Art
When it comes to Places to visit in Bangkok, the new Museum of Contemporary Art should never be missed.
A 5 story space owned by a Thai telecommunications magnate who aspired to share his huge Thai modern art collection with the masses. Further, MOCA offers the best introduction to those who aspire for Thailand's art scene.
Museum of Floral Culture
This is Bangkok's most gorgeous surprises.
Created by Thai floral artist SakulIntakul, the museum of floral culture is for flower and nature enthusiast. It features exhibitions of important floral cultures from civilisations all across Asia such as Indian, China, Japan, Laotian &Indonesian. It forms in a wonderfully preserved, 100-year-old teak mansion with beautiful colonial architecture. Earlier, Lush grounds now an impressive landscaped Thai-meets-Zen-style garden to mesmerise you.
Henceforth Bangkok is not only a place as you think it is but also its full of positivity & mysterious beauty which embraces the whole city.