Best Restaurant in Beijing, China
Beijing is one of the most developed cities around the world. Also, known as much for its modern architecture as its ancient sites such as the grand Forbidden City complex, the imperial palace during the Ming and Qing dynasties. It is the site of Mao Zedong's mausoleum and the National Museum of China, displaying a vast collection of cultural relics.
Area: 16,808 km²
Local time: Thursday, 1:02 pm
Weather: 10 °C, Wind N at 14 km/h, 35% Humidity
Population: 2.17 crores (2017)
Postal code: 100000–102629
City flowers: China rose
10 Best Indian Restaurants in Beijing
In case you are not an experimental foodie or would like to have some Indian food in Beijing, the options are not limited. Gone are the days when you had to pack your bag with spices and lentils to eat in the foreign land. Now, there are many Best Indian restaurants in Beijing catering to locals as well as Indian tourists and people in business, offering authentic, traditional Indian food, in the middle of China.
The Taj Pavilion
Ganges Indian Restaurant
Redford Cultural Restaurant
Cafe Cha
Khan Baba
The Lobby
Punjabi Indian Restaurant
Indian Kitchen
Raj Indian Restaurant
N'Joy
The Taj Pavilion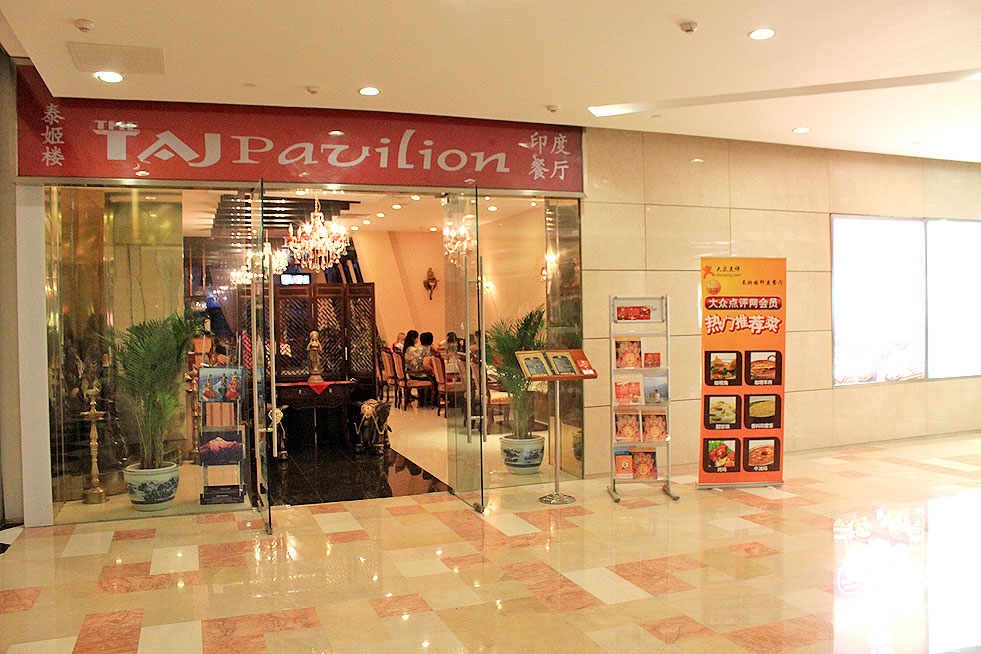 The Taj Pavilion is one of the best Restaurant in Beijing, China. The food at The Taj Pavilion is tasty and priced well, which makes it a frequently visited place amongst Indian travellers. The three branches of Taj Pavilion have friendly management. It is famous for its finest Indian food such as samosas, onion bajhis, aloo chat, green chicken curry, kebabs, garlic naan, Tandoori chicken and Fish Fry.
Location: No. 22 Guanghua Lu, Chaoyang, Beijing
Cost for two: INR 1200
TripAdvisor Rating: 4.5
Phone no: +86 10 6505 5866
Website
Ganges Indian Restaurant
Ganges Indian Restaurant is one of the most popular Indian Restaurants in Beijing near the Forbidden city. It is the most visited Indian Restaurant in China. Ganges Indian Restaurant is the prime destination for great tasting, authentic Indian food in Beijing. There are many different outlets of Ganges Indian restaurant in Beijing, and all of them serve mouth-watering food. Also, the staff is courteous, and you can have your food made in the way you want. You can enjoy both vegetarian and non-vegetarian dishes here. Also, they serve a wide variety of South Indian food – the dosas and idlis.
Location: Guang Hua Road 9, Chao Yang District, Beijing
Cost for two: INR 2000
TripAdvisor Rating: 4.5
Phone: +86 10 5135 8353
Website
Redford Cultural Restaurant
Redford Cultural Restaurant is one of the best Restaurant in Beijing that has been opened recently. The place serves food precisely like they do in India and is perfect for dinner and drinks with your friends. Also, there is a live Bollywood style dance show happening here as well, which adds to the glamour. The perfect place for the celebration or spending good time and happy moments with the best quality food and mesmerising aura. The site has an Indian scent to it with the aroma of spices hanging in the air around you.
Location: Shine Hills Shopping Centre, Shunyi, Beijing
Cost for two: INR 2500
TripAdvisor Rating: 4.5
Phone: +86 10 8047 6164
Website
Cafe Cha
Café Cha is a Multi-cuisine restaurant in Shangri-La Hotel and is famous for its buffets. They have a nice spread of Indian dishes mixed with some Western and Chinese delicacies. The 220-seat Café Cha offers an all-day international buffet. You can enjoy amazing dishes with serene garden views. They have a different version of sea-food as well. The curries, Indian style lamb chop and fresh Indian bread, make this place one of the best Indian restaurants in Beijing.
Location: 1/F, Shangri-La Hotel, Beijing
Cost for two: INR 2500
TripAdvisor Rating: 4
Phone: +86 10 6841 2211
Website
Khan Baba
Khan Baba is famous for its typical Mughlai dishes in China. The main attraction here is the lunch buffet (55RMB including a soft drink). It serves mouth-watering Biryani along with some of the best kebab platters in the region. The samosas, lassi and naan of this place is the yummiest thing here and make it the most famous Indian Restaurants in Beijing. The overwhelming spread of curry and friends is delicious and generally on plates before it gets cold. If you're planning to go to China make sure you visit Khan Baba.
Location: 2/F, Jixin Mansion, Wudaokou, Haidian District, Beijing
Cost for two: INR 2000
TripAdvisor Rating: 4
Phone: +86 10 5692 7068
Website
The Lobby
The Lobby Beijing presents an impressive setting to share the celebrated Peninsula Afternoon Tea with family or friends accompanied by live music. It is perfect for breakfast, lunch and dinner. The ambience is quite posh and this is one of the highest rated places around. The site is famous for its coffee and scones and is also highly recommended. Also, it is the perfect place to have a date night in Beijing if you want Indian food on the menu.
Location: L1, 8 Goldfish Lane, The Peninsula Beijing, Beijing
Cost for two: INR 4500
TripAdvisor Rating: 4
Phone: +86 10 8516 2888
Website
Punjabi Indian Restaurant
Punjabi Indian Restaurant has been a strong and steady fixture in Beijing's F&B scene for the past decade with a focus on tandoor-roasted meats. The place serves everything from Butter Chicken, Mutton Rogan Josh to Baingan Bharta, Malai Kofta and glasses of Lassi. It has Indian Vibe to it. The service and food of Punjabi Indian Restaurant are amazing.
Location: C/8, 1-30, Chaoyang, Beijing
Cost for two: INR 2200
TripAdvisor Rating: 4.5
Phone: +86 10 5867 0221
Website
Indian Kitchen

It is one of the best Restaurant in Beijing and is famous for South Indian food. They serve dosas, rasam, sambar, coconut chutney, curd rice, different curries, as well as chicken vindaloo apart from some North Indian dishes here. The huge menu is divided into an assortment of spicy subcontinent specialities like tandoori chicken, vegetable paneer and lassi with homemade yoghurt. Desserts of this place are highly recommended.
Location: 2 Sanlitun North Alley, Chaoyang, Beijing
Cost for two: INR 1800
TripAdvisor Rating: 4
Phone: +86 10 6462 7255
Website
Suggested Read: World Longest Sea Bridge
Raj Indian Restaurant

One of the best Indian places near the Forbidden City, Raj is perfect to have simple Indian food. Chef Iswar Singh offers dishes from India's northern, eastern and western regions. They serve different vegetable preparations as well as meat curries. Live song and dance performances and private parties are available as well.
Location: 31, Gulou Xidajie, Beijing
Cost for two: INR 1400
TripAdvisor Rating: 4
Phone: +86 10 6401 1675
Website
N'Joy
N'Joy at NUO Hotel Beijing offers international all-day dining, where diners can enjoy a buffet for breakfast, lunch or dinner. The food here is prepared by NUO's culinary team of world-class chefs from 10 different countries. The buffet spread is thus quite vast and offers many delicacies. It is considered one of the best buffet spread in Beijing. 'N'Joy's open kitchen includes a seasonal vegetable section with fresh ingredients from NUO's green farm. Also, you can enjoy alfresco dining in N'joy.
Location: 1/F, Nuo Hotel, Chaoyang, Beijing
Cost for two: INR 5000
TripAdvisor Rating: 4.5
Phone: +86 10 5926 8281
Website
This list of Indian restaurants in Beijing will surely help in keeping you well fed on your China holiday. If you want to know more about Beijing, let me know in the comment section below.
Suggested Read: Shopping in China